C Connect s.r.o. has offered the production of shape cut parts since it was established. We offer a wide range of applications thanks to our cutting systems. Bridge presses, plotters and lasers are used for cutting or carving and die cutting and kiss cutting.
The core part of our production is serial production - but due to our flexibility we are able to solve specific piece orders. Our cut parts can be used as seals, gaskets, stoppers, insulations, decorative and protective elements or semi-finished products for further processing.
Depending on your request, we can recommend substrates with suitable properties or process your material.
The cut parts can be made of various substrates such as:
Foils
Ply-wood
Glass fiber
Sheet Metal
Nonwovens
Foams
Corrugated cardboard
Plastics
Textiles
Paper
DIE CUTTING

Die cutting is the process of using a die to cut the material and get the required shape. We offer the cutting of simple materials or the cutting of stickers.

C Connect s.r.o. ensures the production of metal or wood-metal cutting tools according to the customer's requirements.


KISS CUTTING

Kiss cutting is a die cutting process where foils with adhesive are cut through, but the release liner is not.

The products (usually labels, stickers and stamps) remain on the release liner and can be easily removed for sticking on the desired place.

C Connect s.r.o. can offer kiss cutting even for small series of products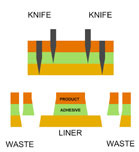 PLOTTER, LASER CUTTING / CARVING

C connect s.r.o. deals with cutting/ carving plotters and cutting/carving lasers. Both techniques enable cutting of complicated shapes without cutting tools.

Cutting plotters allow you to cut a variety of shapes with flexibility by using oscillating knives. It is possible to produce a large series or small quantities of products and samples.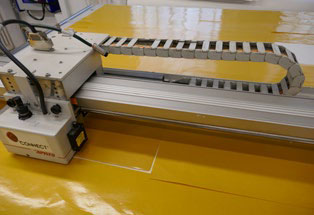 CUTTING OF STRIPS

The company C Connect s.r.o. can also cut strips of materials with great precision on its equipment.